Lloyds Bank
Overcoming behavioural biases around debt paid off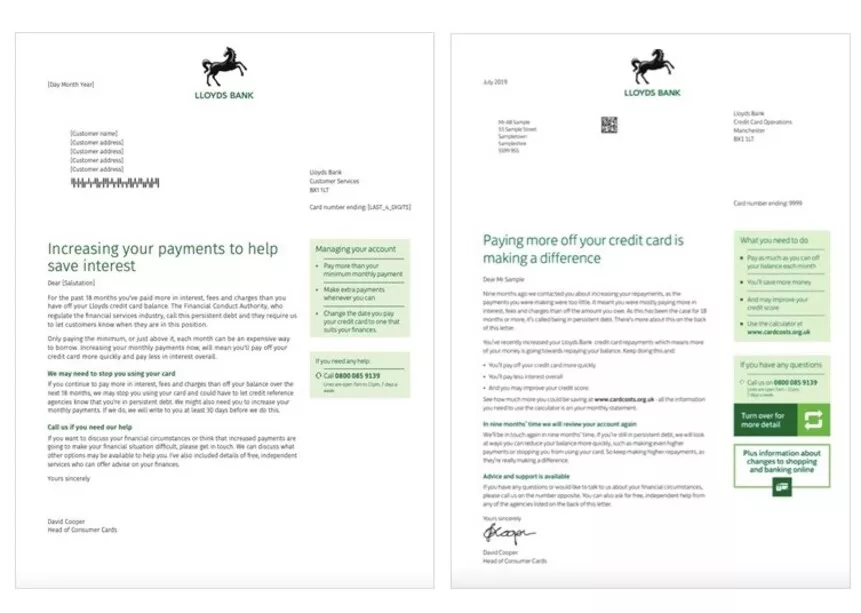 Background
Following the introduction of new rules from the Financial Conduct Authority (FCA), Lloyds Bank wanted to develop a multi-channel, behavioural-led communications programme that created healthier borrowing behaviour in credit card customers who were in 'persistent debt'. Lloyds Bank set out to do more than just the minimum regulatory requirements.
Solution
Previous work on behavioural science within financial decision making showed that to create real behaviour change, you need a multi-channel, behaviour-led approach to your strategy, design and content. This was the only way to nudge customers into making better financial decisions for themselves.
After identifying four behavioural biases at play for these customers, Lloyds Bank and their agency Cello Signal were able to create a strategy to overcome them and encourage customers to increase their monthly card repayments.
A multi-touchpoint programme of succinct communications was employed that delivered more frequently and kept the message front of mind to make customers more likely to act as they started to see the benefit.
By mixing the channels - mail, SMS and email - used to communicate with these customers and using the different creative options of the different media to bring alive the messages in different ways, Lloyds Bank were able to chunk the message down into easily digestible parts across the 18-month journey, helping them overcome any limited attention bias to disrupt deeply entrenched minimum payment behaviour. The strength of mail in the communications journey was that it was difficult to ignore and allowed customers to absorb the messages in their own time.
The creative execution within each channel was clear and easy to understand. The bank worked hard to use simple language to explain any complex terms; enabling them to reduce any confusion or frustration customers may feel.
Lloyds Bank also created communications for those who did increase their payments. These celebrated the positive behaviour the customer had taken and encouraged them to keep it up.
Results
Lloyds Bank saw an immediate response to these communications. They usually get around a 1% call response rate across ten days of mailing. But they received a 0.84% call rate on day one and sustained this throughout. The overall communications generated a 5.9% increase in repayments.
Source: DMA Awards 2019. Entry Best Writing. Agency: Cello Signal
Did you know a whopping 99% of Customer Mail is engaged with, 71% say they trust it and 43% leads to a commercial action such as going online or making a purchase? New ground-breaking research written with Accenture gives an in-depth review of CX and multi-channel communications, including Customer Mail. Download the full report here.