Using mail to drive customer acquisition: case studies and insights
Customer acquisition is the number one priority for marketers under increasing pressure to drive business growth.
Customer Acquisition, Strategy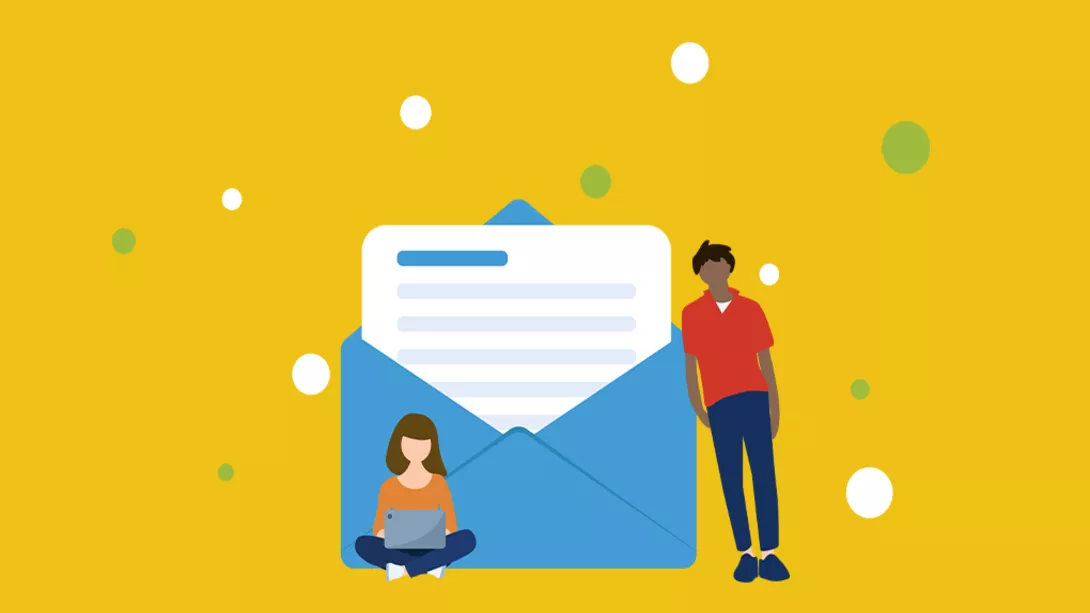 This is clear from numerous surveys - 77% of online marketers and 68% of offline marketers in eMarketer said that they prioritised converting contacts and leads into customers.
Similarly, research among CMOs by the Economic Intelligence Unit highlighted customer acquisition as one of the top two strategic programmes for their organisations (retention being the other).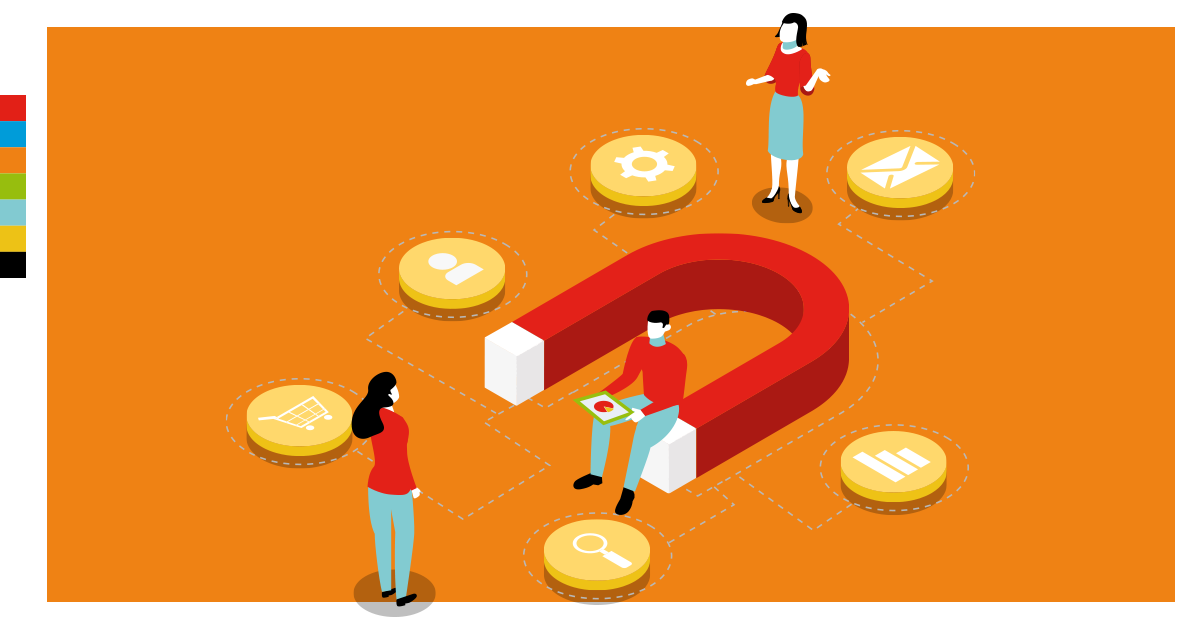 Driving cut through and gaining trust is getting harder
But while businesses are putting more effort into improving their acquisition strategies, it's becoming harder to achieve success.
Consumers are being exposed to thousands of marketing messages per day through an increasing number of channels. If they are not relevant it can be frustrating for the consumer, while the always-on nature of online marketing can exacerbate the problem. It all adds up to a challenge to stand out and grab customer attention.
This over-frequency of messaging and poor targeting has eroded trust in advertising. To combat this and drive a strong acquisition strategy, businesses need to choose a mix of channels and adopt an omni-channel approach that delivers differentiation, builds trust and can effectively convert consumer leads to sales.
Why omni-channel campaigns are effective in moving the customer to conversion
Digital channels have tended to dominate the discussion due to their perceived low cost-per acquisition (CPA), measurability and responsiveness. But costs have been rising for mobile and other digital channels.
At the same time 'traditional' (for want of a better word) channels have evolved. Many commercial TV broadcasters now offer Addressable TV, which delivers targeted advertising on digital TVs. Out-of-Home has developed digital screens, which can change content quickly and show different creative. Then there is Programmatic Mail, which automatically triggers appropriate mail messages when a potential customer performs a digital interaction.
All these channels can respond to customer signals speedily, offer better targeting and deliver robust ROI metrics.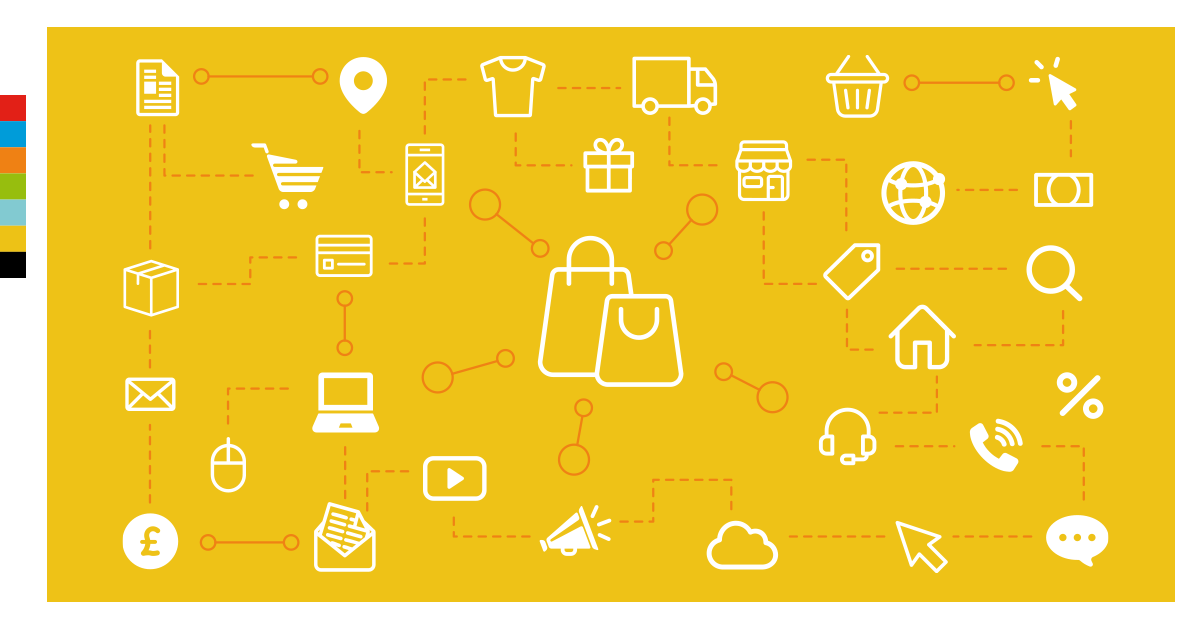 Benefits of omni-channel
Now businesses and their marketing agencies are beginning to understand that a multi-media campaign using a variety of channels in an integrated way can be more effective than relying on a solus campaign using, for instance, just email.
This is because channels reinforce and amplify each other –they work together to increase reach, recall and prompt consumer action. For instance, recall of social media ads in research was 44% higher when people had seen mail first (Royal Mail MarketReach, Neuro-Insight 2018).
Grant Shaw, Marketing Manager of the People's Postcode Lottery, says of integrated, multi-media campaigns:
"All our look and feel is consistent across channels as we understand customers use different touchpoints at different times. And certain pieces are more effective for different things. We have press inserts we have in the papers with a big message driving online; our direct mail packs will have more information around charitable work we do, explaining how the lottery works; TV is more around the winning feeling around when a player has won."
The benefits mail brings to the multi-media mix
Including mail in the marketing mix will help amplify the impact and effectiveness of your customer acquisition activity. Its very tangibility helps with building an emotional connection and drives high levels of engagement - 90% of mail is opened, read, filed or set aside for later (JICMAIL Q2 2017 – Q1 2019).
Key benefits include:
The ability for mass reach to almost 30 million households across the UK or more highly targeted activity.
Trustworthiness – 87% of recipients rate messages delivered by Mail as believable, compared to 48% for email.
The ability to measure effectiveness via JICMAIL which helps businesses to plan effective mail campaigns.
Mail drives sales, 38% of people bought or ordered something as a result of receiving mail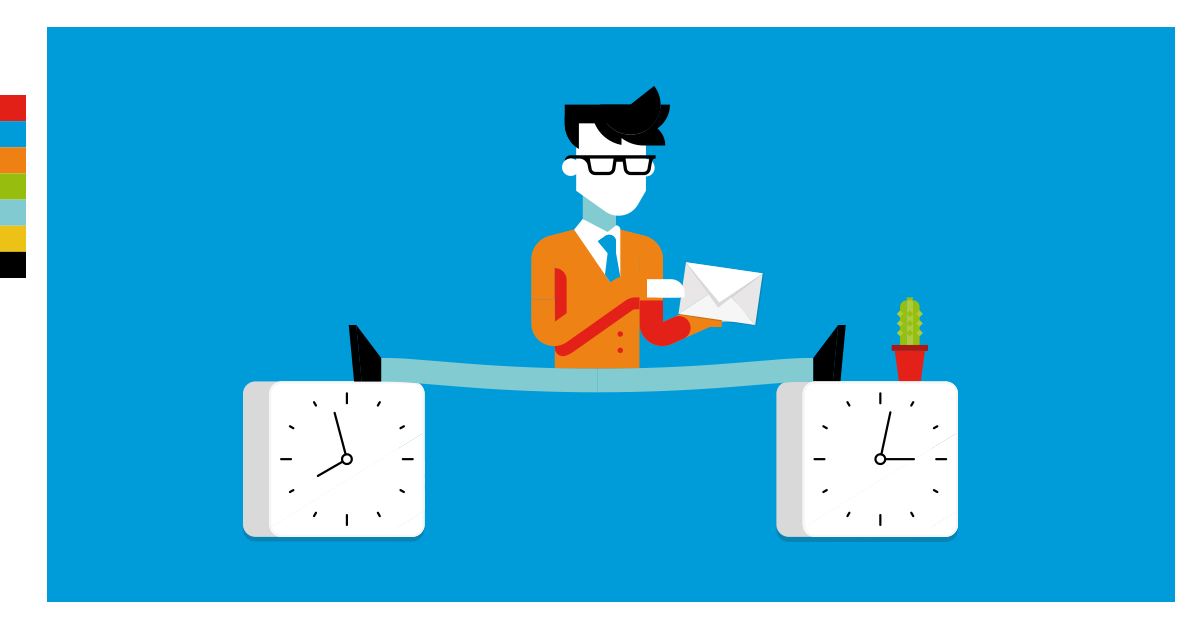 Flexible mail options to suit your business needs
There are a variety of mail options and each has a proven role in engaging prospects and driving acquisition.
Partially Addressed Mail  - This is a highly targeted and responsible way for businesses to acquire potential customers without requiring their personal data. Instead of mailing Joe Blogs for example, businesses can mail small groups of around 15 households in a postcode - they can top up in areas where they have existing customers or find new postcode areas with similar profiles to existing customers. And by using relevant creative titles to engage householders such as  'Pet Lover' or 'Kitchen Wiz' you can really grab attention. In fact 88% of Partially Address Mail is opened, read, filed or set aside for later (JICMAIL Q2 2018 – Q1 2019).
Direct Mail - This adds the personal touch. Direct Mail is addressed mail to an individual and is a way to build a strong one-to-one relationship between prospects and your brand. No wonder engagement rates are highly impressive at 94%. Plus 31% of direct mail drives commercial actions like going online and making a purchase (JICMAIL Q1 2017 – Q2 2019).
Door drops – these are a cost-effective way to reach new customers without using personal data. Door drops can reach almost 30 million households across the UK or be targeted more locally to your area - 90% of campaigns which included door drops had an increase in new customers compared to 59% without.
Shaw says:
"We know there is a certain feeling of authenticity around mail. There are studies around the level of trust you get from reading a letter versus reading an email and how people act on those things and engage with them."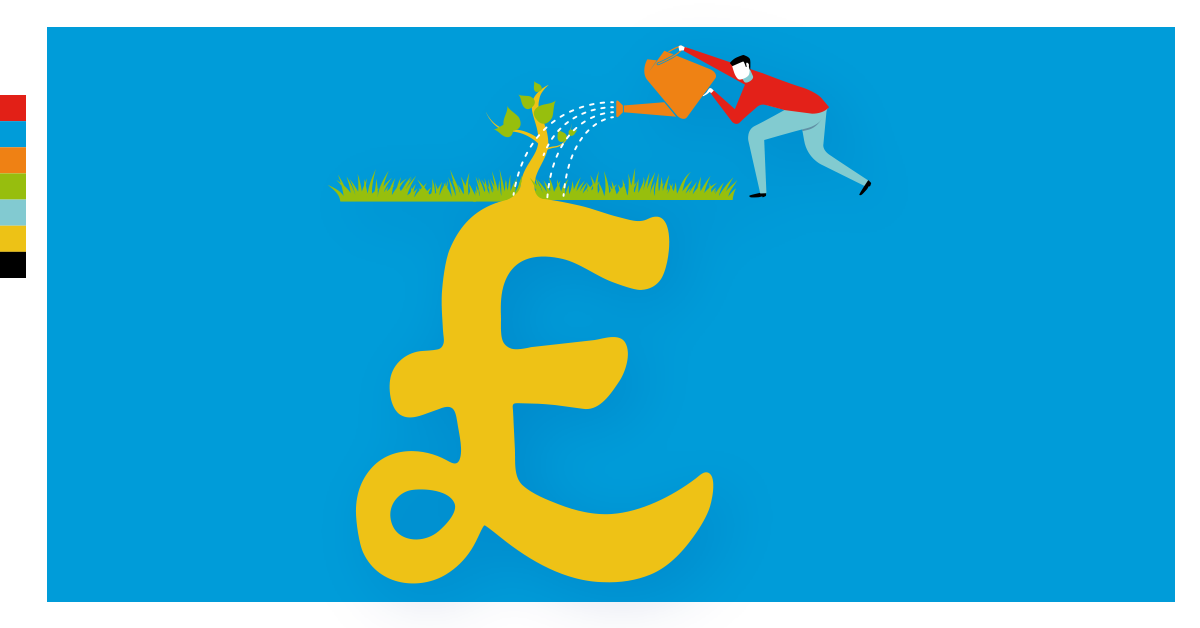 Brands effectively using mail for acquisition
These mail options can be effectively used in different ways depending on your objectives.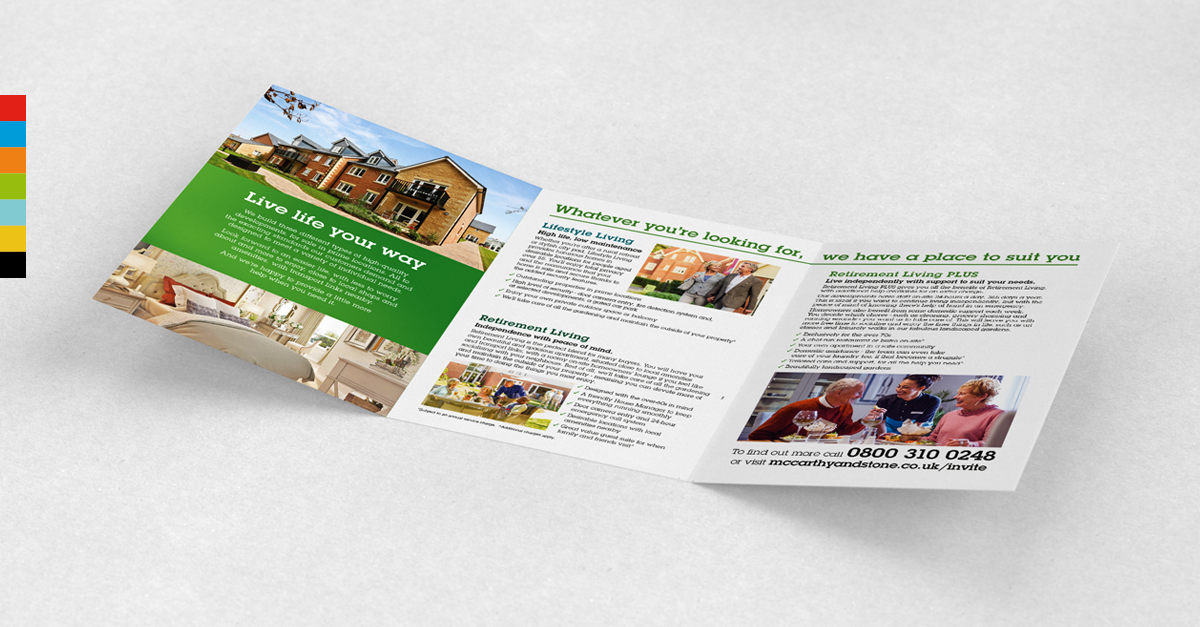 McCarthy & Stone is an award-winning developer, manager and owner of retirement communities. It wanted to drive footfall to its 67 developments across the UK as part of an 'Open Days' initiative. It built a postcode model of prospects based on customer data and sent partially-addressed mail (excluding warm prospects).
The business was delighted with a response rate which was 5% higher than cold mail. CPA was also driven down to 38% lower than cold mail.
Gary Howard, Chief Digital Officer at Precision Marketing, worked on the campaign and said:
"It's geodemographic profiling rather than pure demographic profiling. We use slightly different tactics when doing that. When you look at the location, you think about how we can localise the communication so that it has a higher level of relevance for people receiving it. We can't go in and say 'hello John' because we don't know who John is. But you have a rough idea what type of person he is. And you know where he lives. The idea is that we can start using localisation rather than personalisation to get cut-through."

Evaluating CPA, Howard pointed out:
"If you look at the return rates of PPC or paid banner advertising, DM is standing up as good value … We believe that Partially Addressed, with the incentives that align to it, can bridge the gap between the physical and the digital."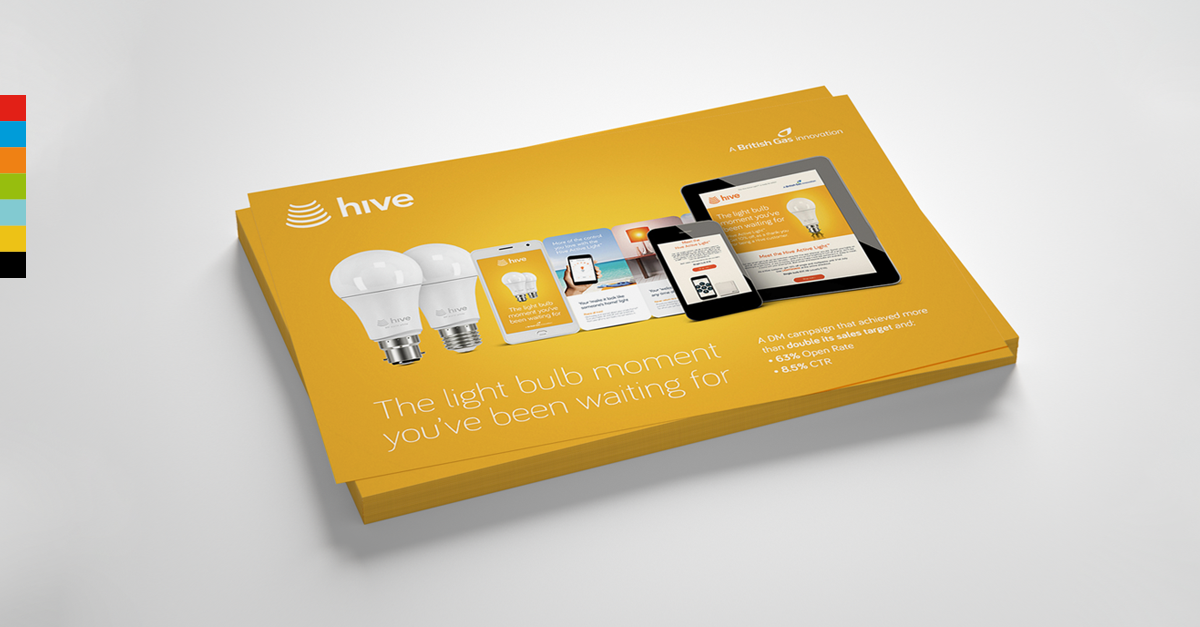 1. Hive is a smart home provider owned by Centrica and sells a portfolio of smart products and services for the connected home. It wanted to launch Hive Active Light but knew it would be tough to cut-through the noise around other Hive products. The business devised a smart direct mail campaign with a teaser communication followed by a mail pack, which carried the message 'The lightbulb moment you've been waiting for' on its outer. The packs were sent to the hottest prospects on Hive's existing and prospect database.
Sales increased by 69% compared with a control group and the campaign generated a 14% conversion to sales ratio.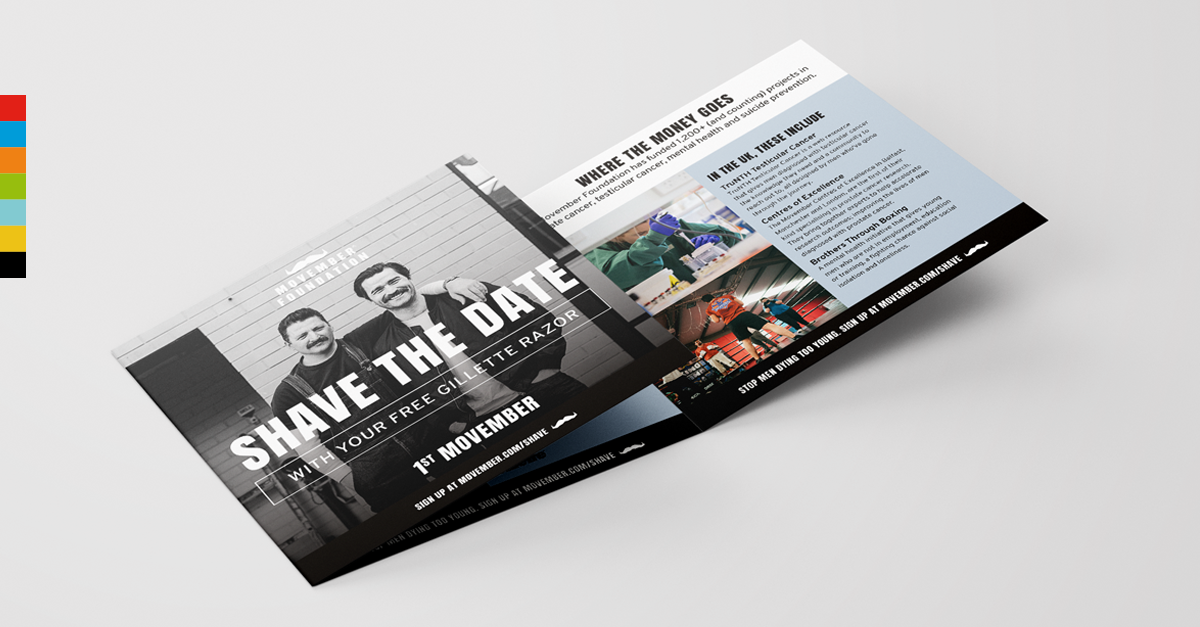 2. Movember is a charity probably best known for men sporting weird and wonderful moustaches during the month of November to promote annual awareness and fundraising for men's health. After the introduction of GDPR, its database was much-reduced and it had to find a new way of engaging supporters. It carried out a door drop campaign, using the intriguing headline 'Shave the Date' to 250,000 households with an incentive offer.
The campaign delivered 1,500 new donors and 300 existing donors signed-up again.
The UK Marketing Director for the charity said:
"It's about cutting through with something tangible in a noisy digital world. Something recipients wouldn't just scroll past on a smartphone social media feed; something they could take time to digest."

"We were delighted with the results. The door drop has been such as success that we are looking at rolling it out in a bigger way to more targeted areas."
Adding mail to the marketing mix as part of your customer acquisition strategy can improve the effectiveness of your campaigns. The variety of options mail offers means it can be tailored specifically to your needs to achieve the best possible results.
The last word goes to Shaw from the People's Postcode Lottery:
"We know that if we don't have mail in the mix we won't have as strong a campaign."
Dig deeper into the case studies referenced above in our new guide 3 Proven Ways To Boost Your Acquisition Strategy.
Further reading
MarketReach, 3 proven ways to boost your acquisition strategy
marketreach.co.uk/boost-your-acquisition-strategy
JIC Mail
jicmail.org.uk
MarketReach, The value of mail in uncertain times
marketreach.co.uk/resources/the-value-of-mail-in-uncertain-times
MarketReach, Programmatic Mail
marketreach.co.uk/blog/Programmatic-Mail
MarketReach, Mail cuts through because it's remembered
marketreach.co.uk/measuring-mail-with-neuroscience
eMarketer, Customer aquisition continues to be a priority for marketers
emarketer.com/Article/Customer-Acquisition-Continues-Priority-Marketers/1014662
The Economist Intelligence Unit, The path to 2020: Marketers seize the customer experience
eiuperspectives.economist.com/sites/default/files/EIU_Thepathto2020_PDF.pdf
Advertising Association, Report: Arresting the decline of public trust in UK advertising
www.adassoc.org.uk/policy-areas/report-arresting-the-decline-of-public-trust-in-uk-advertising/
AdAge, Three things marketers should know about executing an addressable TV campaign
adage.com/article/cadent/why-are-we-still-making-it-so-hard-understand-addressable-tv/2202041
IPA, Three key ways to drive campaign effectiveness
ipa.co.uk/news/new-ipa-report-from-binet-and-field-reveals-key-ways-to-drive-campaign-effectiveness