Why Mail?
Mail plays a unique and compelling role in today's marketing mix. It's a tried, tested and trusted performer that drives measurable change in consumer behaviour. In an increasingly digital world, mail remains as resilient and relevant as ever.
The channel that delivers
Both consumers and advertisers have multiple reasons to trust in mail. It's engaging and effective. It's single-mindedly commercial and yet it can tell complex stories.
Mail continues to evolve and adapt to changing times. In an increasingly online world it hasn't just survived – it's thrived. Digital fatigue and privacy concerns are issues that aren't going anywhere, and here the very physicality of mail has proven to be its greatest advantage to marketers.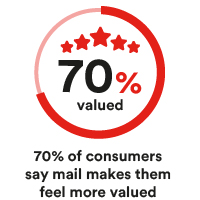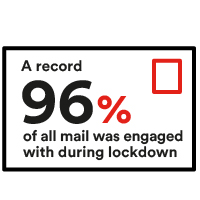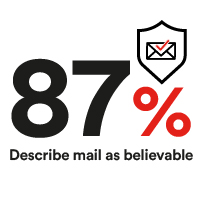 Why Mail is effective
Mail cuts through
The tangibility of mail is key to it's effectiveness. It stays in the home and builds powerful relationships between customers and brands.
Mail is trusted
In uncertain times, consumers continue to have confidence in mail. It's trusted and believed among all age groups.
Mail is measurable
Testing has always been at the heart of mail's appeal. And technology is making it easier than ever to optimise performance.
Mail works at every stage
Whatever your objectives, mail makes a vital contribution. It's the perfect channel for both activation and brand-building strategies.
Mail evolves with digital transformation
Innovation in mail is enhancing customer experience and creating huge opportunities for marketers.
Mail drives results
Response is at the heart of mail's appeal. It's a channel that's noticed and acted upon - and it's inspiring more and more online journeys.