Specsavers
Door drops ensured Specsavers Audiologists' message was heard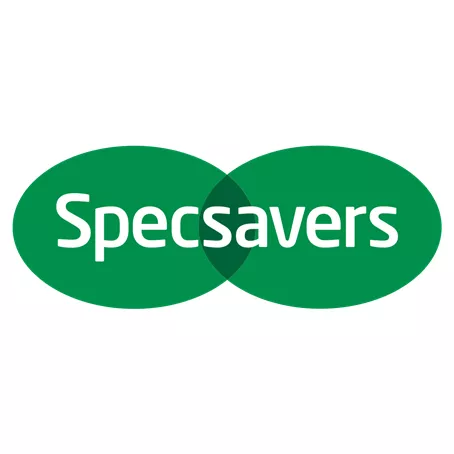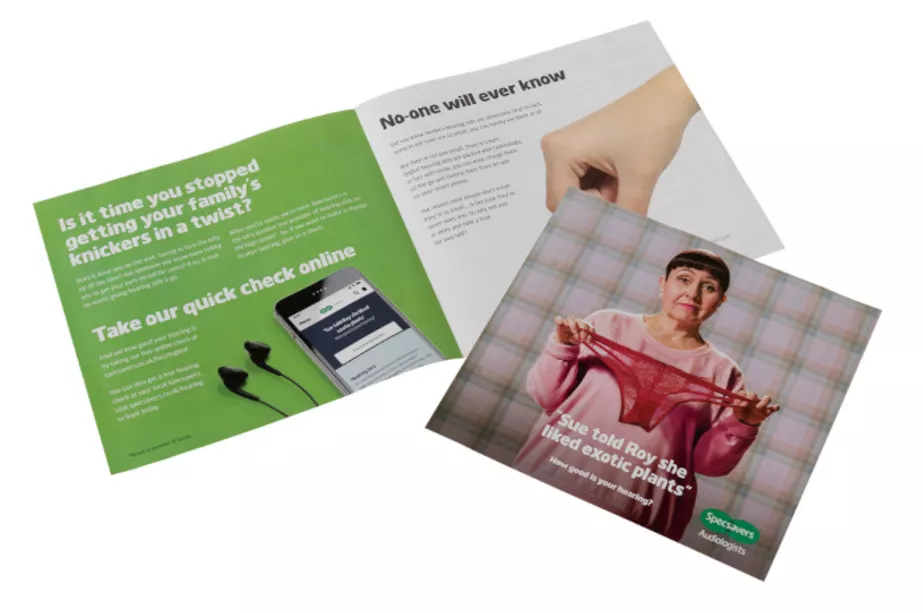 Background
Despite being the UK's leading high-street audiologist, awareness of this Specsavers service was poor. The objective was to raise awareness of their expertise in audiology and normalise hearing loss. With only 1 in 3 of those with hearing loss wearing hearing aids, there remained a huge barrier in accepting hearing loss and understanding that wearing an aid is normal.
Solution
Accepting hearing loss and acting on it can be a 7-10 year process. Specsavers Audiologists set out to develop a targeted series of integrated communications that normalised the category and broke the barriers associated with hearing aids by providing information about a sensitive subject in a humorous and warm manner, allowing consumers to digest the information and act once when they were ready.

Door drops were chosen as a key channel in the integrated campaign, allowing Specsavers Audiologists to deliver their message directly into the homes of prospects most likely to suffer from hearing difficulties.
Specsavers Audiologists grounded their door drop strategy in a data and insight-led approach to maximise the impact and performance. A model utilising historical customer data and regional customer profiles was used to ensure geographical relevance and greatest prospect penetration. It had been previously tested to prove its efficiency and predictive response (top quarter performing 15% stronger than the subsequent quarters).
Continued learning through focus groups was paramount to developing the creative content. Insight showed that the barriers to hearing aids include retaining youth, concern of the size of the aid and ignoring the issue. Playing on the target audience's youthful nature, humour was established as a route to engage them and help people come to terms with hearing loss. While a sensitive, serious subject, humour disarmed consumers and relaxed them in to talking about hearing concerns. Importantly, humour was something people have come to expect from Specsavers so it came naturally.
Building on the Specsavers 'Should've' heritage and understanding the opportunity for humour to engage, a 4pp booklet was developed to engage, educate and drive an action. A fun, striking image and pants/plants mis-hearing titled leaflet tied in with TV sponsorship and press campaigns.
The door drop took consumers on a journey to a call to action: risqué humour (plants misheard as pants); striking images; engaging family by discussing everyday problems with levity; and a "no one will ever know" approach explaining how technology has made aids smaller.
3.8m households were door dropped - reached over 7 weeks. Spreading distribution to allow a managed response and improve service levels.
Results
Specsavers Audiologists' humorous door drop produced big results by delivering 1,727 calls and 327 appointments. This provided a response 32% greater than the previous year, showcasing its standout and ability to engage.

Econometrics provided door drops a strong ROI, ranking ahead of TV and OOH. While Whistl analysis showed an uplift in appointments of 16% against a control.

Door drops supported the campaign as a whole, improving brand consideration by 15% and purchase intent by 10%.

JICMAIL provided interesting results during the period, with reach ahead of average - 1.05. 6% of door drops led to commercial actions, of which 43% were discussions with someone.
Source: DMA Award Winner. Best use of Unaddressed Print (Bronze)