Working from home? Admail always has been
The household and individually targeted nature of door drops and direct mail point towards an increasingly important role for mail in the multi-channel mix. This article is written by Ian Gibbs, Director of Data Leadership and Learning at JICMAIL.
Effectiveness, Strategy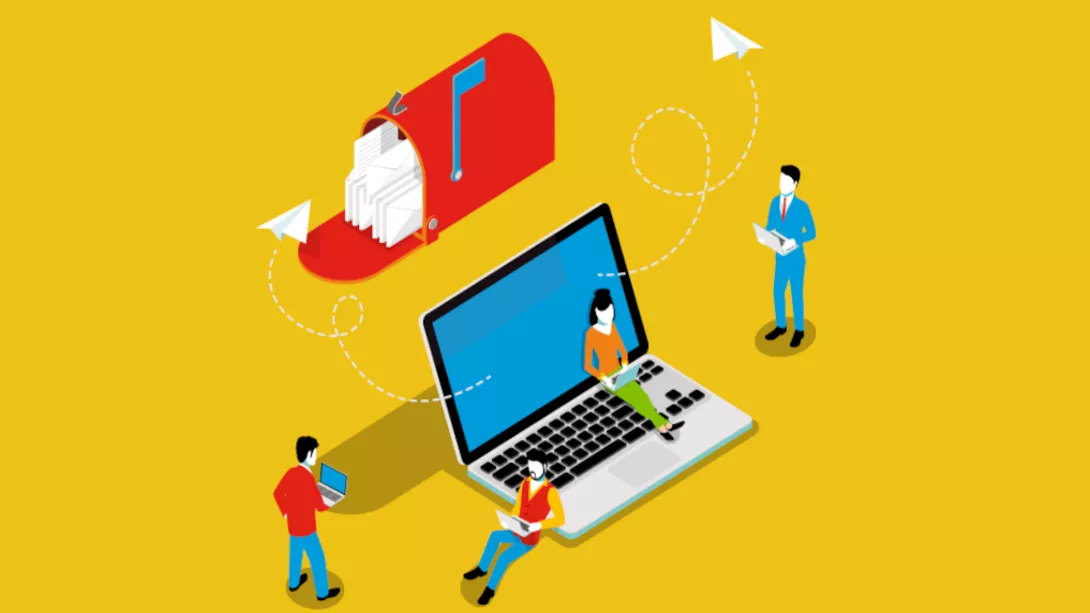 Much has been written about the role of media and advertising in helping brands respond to the current global health crisis. Our Linkedin news feeds are awash with debate about appropriate tone of voice; the value of advertising through a recession; and spirited defences of a brand's right to give a hard sell if it means keeping their heads above water.
One thing that is also abundantly clear from my Linkedin news feed is that people are also taking great pride in showing off their new working-from-home set-ups – complete with strategically positioned company stationery, RSI inducing re-purposed household furniture, cats, children and any other work-avoidance techniques you care to name.
The new working-from-dynamic is likely to change the way we think about the relationship between our place of work and our homes for evermore, with the already blurring boundaries between the two converging even further in a haze of 5G connectivity and increasingly liberal employer attitudes.
At the same time, the way in which we think about our media plans is likely to undergo a similar transformation, with those channels that have the ability to deliver targeted messages directly into people's home throughout the working day opening up a wealth of new commercial opportunity.
There has been a much-reported rise in TV and Radio consumption since the onset of COVID-19, but there is one channel that delivers huge levels of audience interaction in the home and often gets overlooked in above-the-line planning conversations.
At JICMAIL (the joint industry planning currency for direct mail and door drops) we already know that mail gets shared around in the home and is interacted with frequently throughout the month (4.2 times for the typical direct mail piece and 2.8 for a door drop).
However, things get really interesting when we start to drill down to specific audience segments. According to a fusion of TGI and JICMAIL data from 2019, those who use the internet to work from home show above average interaction rates with both direct mail (4.3 times a month per mail item) and door drops (3.1 times a month).
Mail: the interactive media
These interactions can vary greatly, but they can take the form of a whole host of engagements, with 71% of all direct mail being opened, 26% put aside to look at later, and 31% driving some sort of commercial outcome for a brand (such as driving web traffic, a store visit, a specific product purchase or word of mouth).
At a time of national crisis, these figures are even higher for government and medical mail, with open rates as high as 80% and over half of mail still not thrown away after a month. Mail has staying power and the impact of its exposure is measured in days and weeks, not seconds or fractions of seconds.
This is all very easy for me to say of course, without a marketing budget of my own to scrutinise in these uncertain times. Mail has impact, but isn't it expensive?
The answer is a demonstrable "no" when viewing the mail channel through the multi-channel planning lens provided by the IPA TouchPoints survey, while paying attention to the increasingly lost art of effective frequency planning (this point is also of crucial importance to ISBA's current agenda to reduce excessive frequency and improve consumers' perceptions of advertising).
Multi-channel planning efficiencies and mail
Take the example below. A medium-weight campaign targeting people who work from home five days a week across TV, social and radio will reach about 94% of the target audience for £2.5million.
If you redeploy just over a quarter of that spend to target households and people working from home with door drops and direct mail, you can achieve a modest 4% increase in reach but at the same time CPMs (cost per thousand ad impressions) increase 7%. On the face of it, not much of an efficiency gain…

The true impact of mail shines through when considering effective frequency however. Different brands will have different views on what exposure levels are most appropriate for their products and audiences and there are a multitude of factors which help planners decide on how to balance under-exposure (and therefore limited campaign cut through) with over-exposure (and therefore wasted ad budget and higher levels of consumer irritation).
Either way, mail occupies a frequency sweet spot where exposure is dictated by the consumer, not by an ad server. With our previous example, we can see that the volume of impressions delivered in the four to eight frequency range has increased 16%, while CPMs at this effective frequency level have declined by 16%.
In other words, significant double-digit campaign efficiencies are achieved at the frequency level that matters most to the brand while reducing wasteful and excessive exposure.
It should be noted that the audience definitions used predate the onset of COVID-19, and with a far greater proportion of the population now working from home, the actual effective frequency CPMs are likely to be much lower than the outputs of this analysis. The impact of mail's inclusion however will remain the same.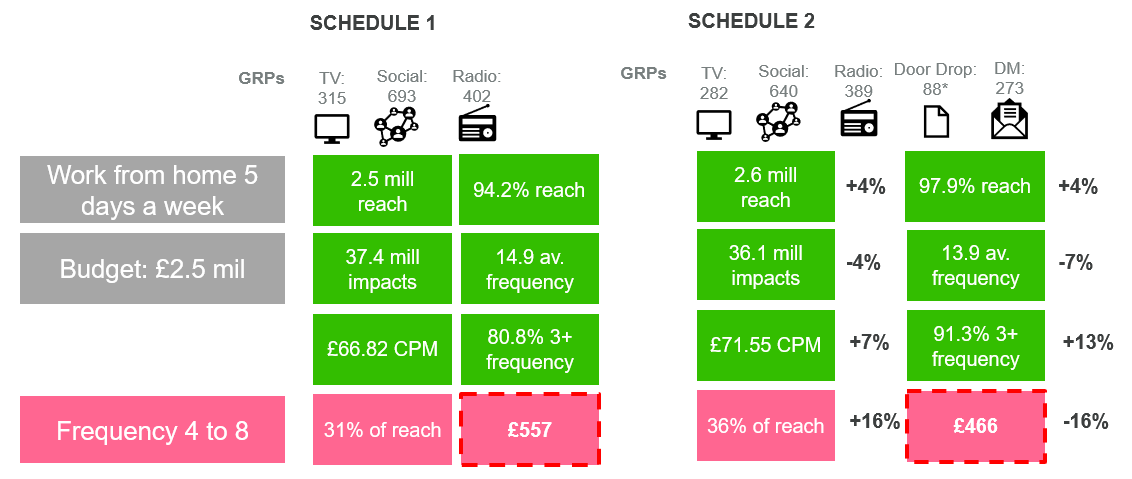 Marketing budgets are about to come under more scrutiny than ever before. Maximising campaign efficiencies on a CPM basis while retaining impact is crucial and the household and individually targeted nature of door drops and direct mail respectively point towards an increasingly important role for mail in the multi-channel mix.
Whether you're a broadband provider looking to target consumers while they struggle with bandwidth issues on their daily zoom call; or an entertainment brand helping consumers decide what TV and VOD packages to fill their time with; or a finance brand helping households navigate these difficult times, mail can cost-effectively work from home for you.
If you'd like to learn more about how to get hold of JICMAIL data, how to perform this type of analysis in IPA TouchPoints, or have questions about the methodology and rates used in this analysis then please contact ian@jicmail.org.uk
This article originally appeared on Mediatel. You can view it here.