Building marketing effectiveness during the pandemic
Why physical mail can add more punch to your media plan
Effectiveness, Strategy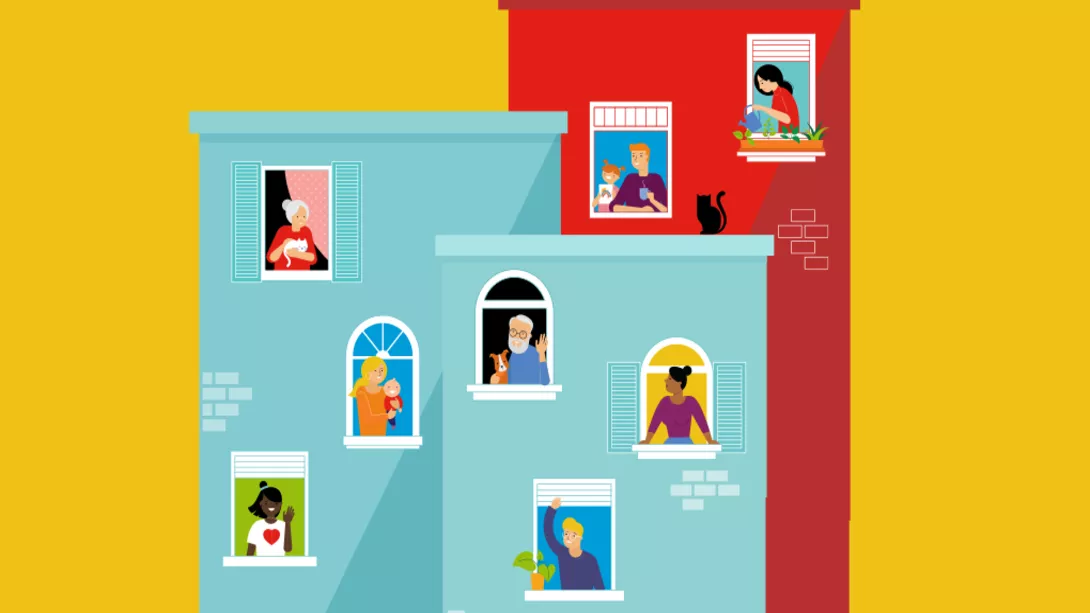 Why physical mail can add more punch to your media plan
In 1962, heavyweight boxing champion Willie Pastrano famously noted that "the punch you don't see coming is the punch that hurts". 
This is as true in business as it is in boxing. A year ago, marketers would have pointed towards brand purpose, Brexit, climate change or brand safety as the body blows they feared. These are all still considerable forces to contend with. But they feel like small jabs alongside the thumping uppercut from the blue which is COVID-19. 
The pandemic, and the accompanying global lockdown measures have rocked businesses of all shapes and sizes and marketing budgets have felt the impact. The latest figures from the Advertising Association/WARC Expenditure Report found that ad spend is set to fall by 14.5% this year to £21.5bn as a result of the COVID-19 outbreak, equating to a loss of £3.6bn compared to 2019. 
Ad spend for 2020's final quarter – traditionally the strongest season thanks to Christmas campaigns – was forecast for a 10.5% drop compared to last year. 
Marketers are under greater pressure than ever before to ensure every marketing pound spent counts in acquiring and retaining customers and driving efficiencies. Marketers media models need to be more effective than ever – and to do this they need to reflect and leverage new consumer behaviours. 
Consumer habits in the 'New Normal'
Consumer habits have changed quickly. Swapping meetings for Zoom calls and commutes for trips to the kitchen are the 'new normal'. These changes have moved ad spend in recent months towards digital and direct response channels – with Ofcom finding that UK adults were spending around a quarter of their day online under lockdown, it's easy to understand why.
People are spending more time with digital channels and platforms and they can provide marketers with valuable metrics that can demonstrate quick and clear ROI. The ability to provide numerical substance in board reports can be decisive in justifying marketing spend as budgets tighten. 
However, the true effectiveness of digital marketing is difficult to quantify, especially when considering more abstract factors such as 'digital fatigue'. People are experiencing an unprecedented digital bombardment in their new Work From Home scenarios. 
In late 2019, figures showed that there were around 293 billion emails, 65 billion WhatsApp messages and 23 billion texts sent every day – and these figures will have certainly increased this year. Now, 2 in 5 consumers say they are experiencing digital fatigue. Advertisers cannot expect their communications to retain effectiveness and cut-through when consumers are exposed to this frequency of messages. 
 
In-our-home advertising 
Marketers and agencies are right to adjust budget allocation to reflect the new reality - but a longer-term change in strategy and overview is now required.  
The changes in consumer habits are not temporary. Companies like Microsoft have announced plans to let employees work from home permanently, whilst research conducted in partnership with Trinity McQueen reveals that 24% of consumers report they plan to continue working from home, even after lock-down, creating a new, sizable segment of the populace with new needs, new focuses and new media requirements.  
Marketing effectiveness in the 'new normal' is determined by how well advertisers can leverage these new consumer habits. But it's important to remember that "in-home" does not necessarily mean "online" – the most effective marketing happens when you put strategy in the drivers seat, and deliver a multi-channel campaign that leverages the unique qualities of different channels. 
"I continue to believe that there is no superior advertising medium. I believe that it very much depends on your strategy as to which media you should and should not invest in. Synergy beats specialism – the power of a good campaign has always been in the combination of different weapons at different stages of the execution to get the job done." – Mark Ritson, Marketing Week
It's also important to remember that effectiveness cannot always be measured in the short-term. Marketing professors Les Binet and Peter Field identified that, for almost all B2C brands, marketing efforts should follow a 60:40 split – with 60% of budget allocated to long-term brand building activity. 
Marketers need to find the right blend of channel and message to create effective 'in-our-home' advertising – and naturally mail can play a key role in driving these communications. Our research with Trinity McQueen revealed that businesses are increasingly turning towards direct mail to reach consumers at home:
41% plan to send more Advertising Mail in 2021 (vs 24% less)
51% found mail post-lockdown to be effective
77% reported mail to be beneficial to some extent
This isn't a one-way street either. Advertising is only effective if it delivers a positive customer experience for the recipient, and our research reveals how consumer attitudes towards mail have shifted through the pandemic period. 
Mail is welcomed
88% of consumers reported paying the same or more attention to mail, with nearly half looking forward to receiving it.
All age groups reported engaging more with mail, but the largest increase was 18-to-34-year age bracket.
Mail drives online behaviour
JICMAIL research revealed a 70% increase in mail-driven online behaviour
When primed by mail people spent 30% longer looking at social media ads.
Businesses are seeing new opportunities to engage home-based audiences and consumers are welcoming mail and acting on the messages. So how can marketers make the most of this?
St Luke's case study- mail fights the 'frontline' crisis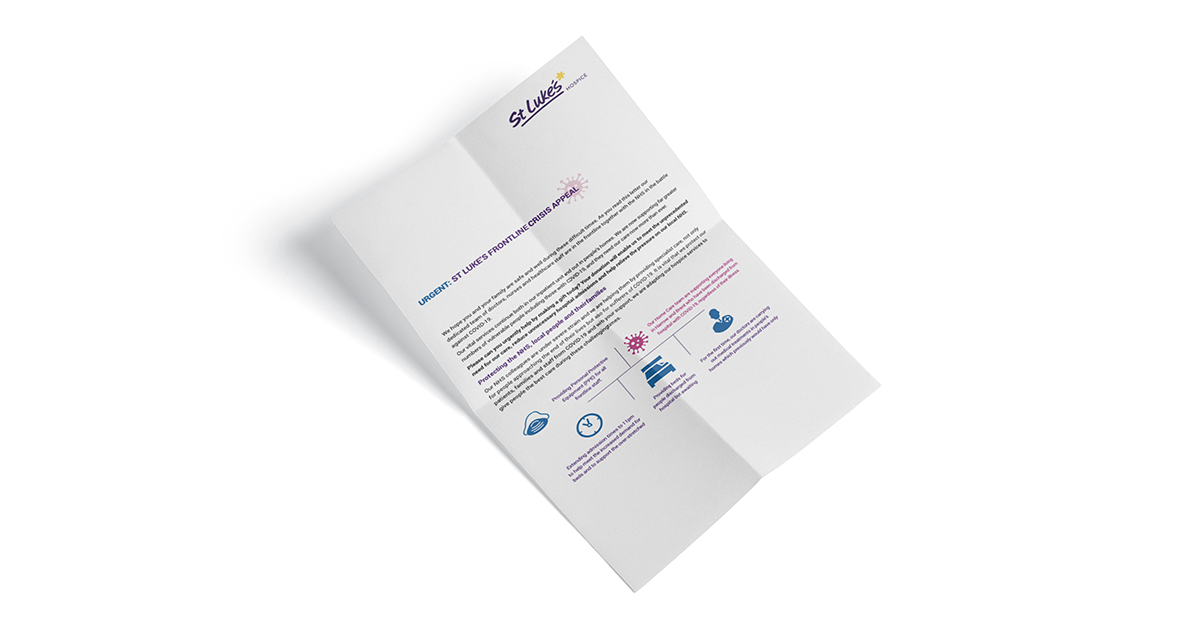 COVID-19 had disrupted many of St Luke's Hospices regular fundraising channels yet there had never been a greater need for help. St Luke's used mail to target current donors in an emergency 'Frontline Crisis' appeal. A simple, effective letter was mailed to c.15,000 active donors on St Luke's database. Within 2 hours of dropping through people's letterboxes, the pack pulled over £2,000 in donations.  Income continued to flow in and reached £50,000.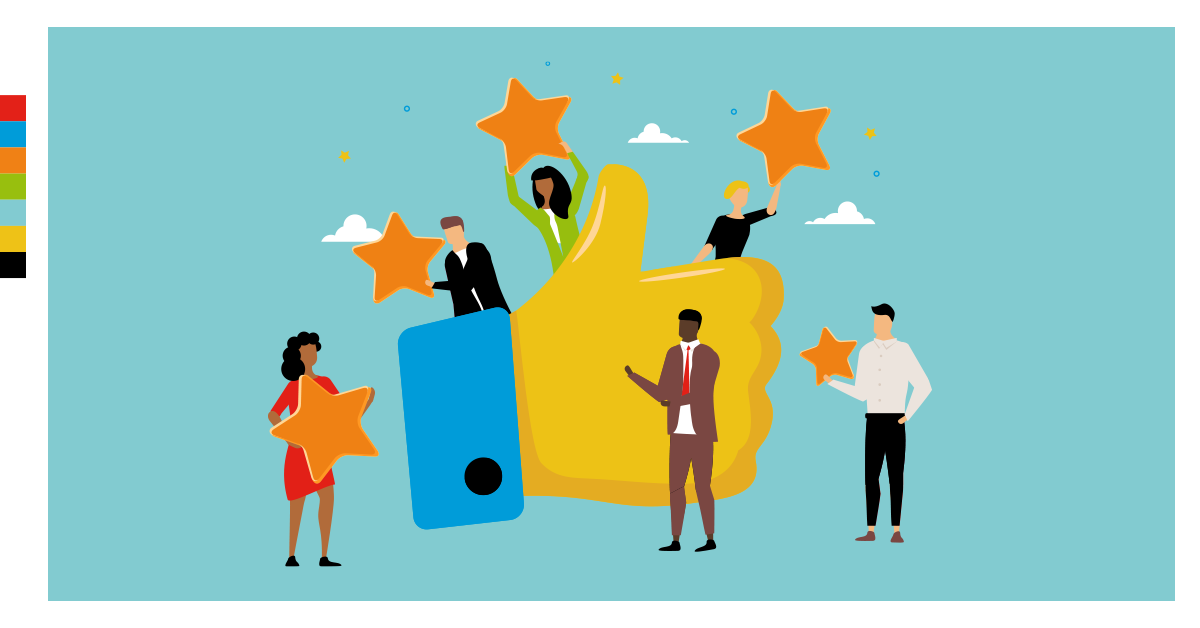 Loyalty comes first
Brands are built on loyal customers. Your most loyal customers are your most valuable – especially in times of economic upheaval. A report from McKinsey found that 63% of UK consumers have experimented with new shopping behaviours since the pandemic, with 81% of those demonstrating high levels on intent to further explore new habits, channels and brands. 
Having customers who are loyal to your brand is the best defence against losing commerce to new habits – Gartner research found 59% and 61% of businesses respectively listing loyalty and retention as their most important objectives moving forward into 2021.  
Mail is a strong medium for driving loyalty and making customers feel valued. Research shows that 70% of people said mail made them feel more valued compared to just 30% for email. In addition to this, almost all addressed mail is opened, and each piece is interacted with 5 times and remains in the home for around 7 days.
KitKat case study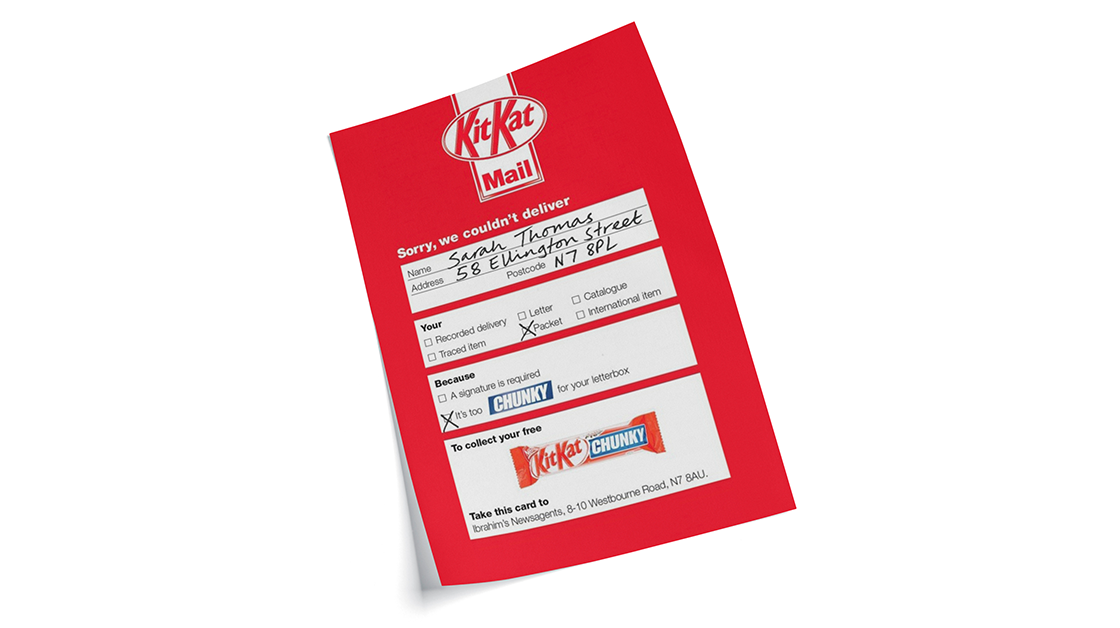 When KitKat Chunky wanted to drive trial of their new product they knew they had to convince people of its difference – it's true 'chunkiness'.
They mailed a postcard that copied the notification card that the postman leaves behind when he can't deliver a package – often because it was too big for you letterbox. In the spoofed version this was because a KitKat Chunky was 'too chunky for you letter box'. Recipients were directed to their local newsagent to collect their package – a free KitKat Chunky. The results were tasty too – with mail driving astonishing 87% recipients going to their local newsagents to collect their KitKat Chunky.
It is likely for these reasons that the Government chose to deliver the most personal COVID-19 communication, Prime Minister Boris Johnson's "letter to the nation", via mail. While it may have been cheaper or quicker to send this message via email - it would have missed out on the emotion, trust  and gravitas direct mail inspires. These add valuable authenticity to the message - and those delivering it.
4 in 5 recalled the Government messages over lockdown, and 58% Boris's letter specifically.

72% said mail was the right way for the Government to be communicating,

and 63% said it showed they were taking the situation seriously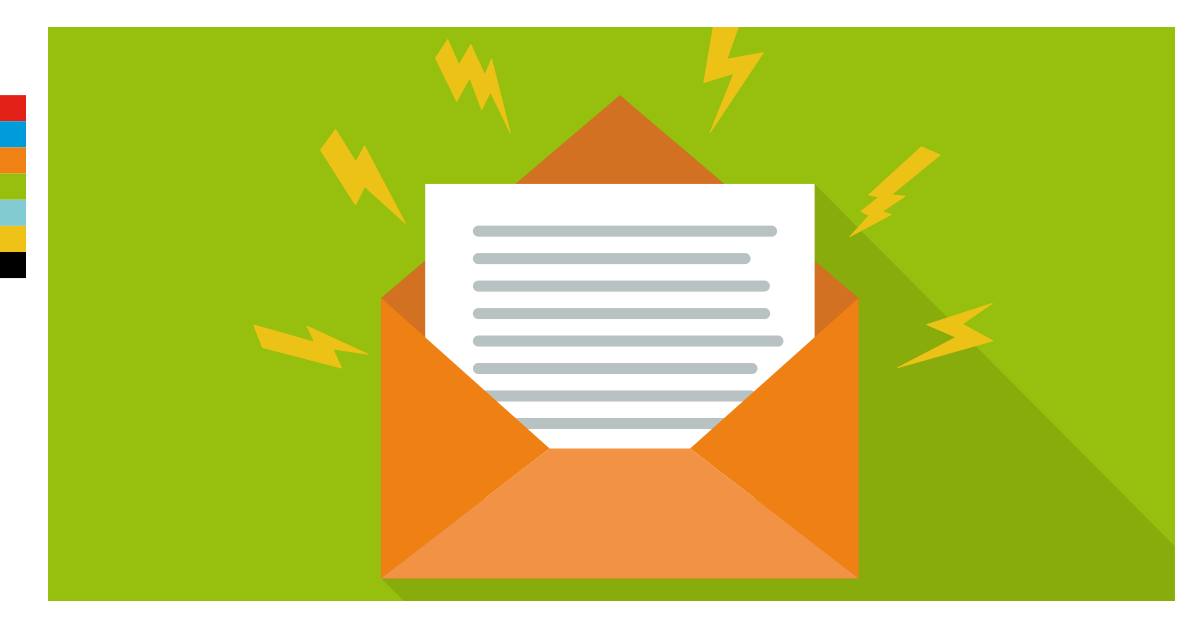 Supercharging marketing with mail 
Figures from JICMAIL, the joint industry planning currency for mail, reveal exactly how much our new landscape has supercharged the effectiveness of mail. 
Mail secured unrivalled levels of attention
Interaction rates (the percentage of recipients who interact with mail) grew from 91% to 96%, pushing the boundaries of complete audience reach.
Mail drove online behaviour 
16% of actions taken with Advertising Mail were online behaviours, a huge 64% increase, making it the primary commercial action people do with mail (drawing level with "creating a discussion"). The point being, whilst lockdown forced all brands to develop their digital presence, mail ensured consumers were noticing those enhanced platforms.
Mail continues to be trusted
 From IPA Touchpoints 2020: Along with established media like newspapers and radio, mail grew the percentage that it was trusted when seen/heard, compared to digital and social channels that shrunk. 
These figures underline an old truth: the medium is the message. Digital will be better for some communications, but established media wins out for reach and trust, whilst still operating as a key pillar for driving online engagement. 
Hearst & Paperplanes case study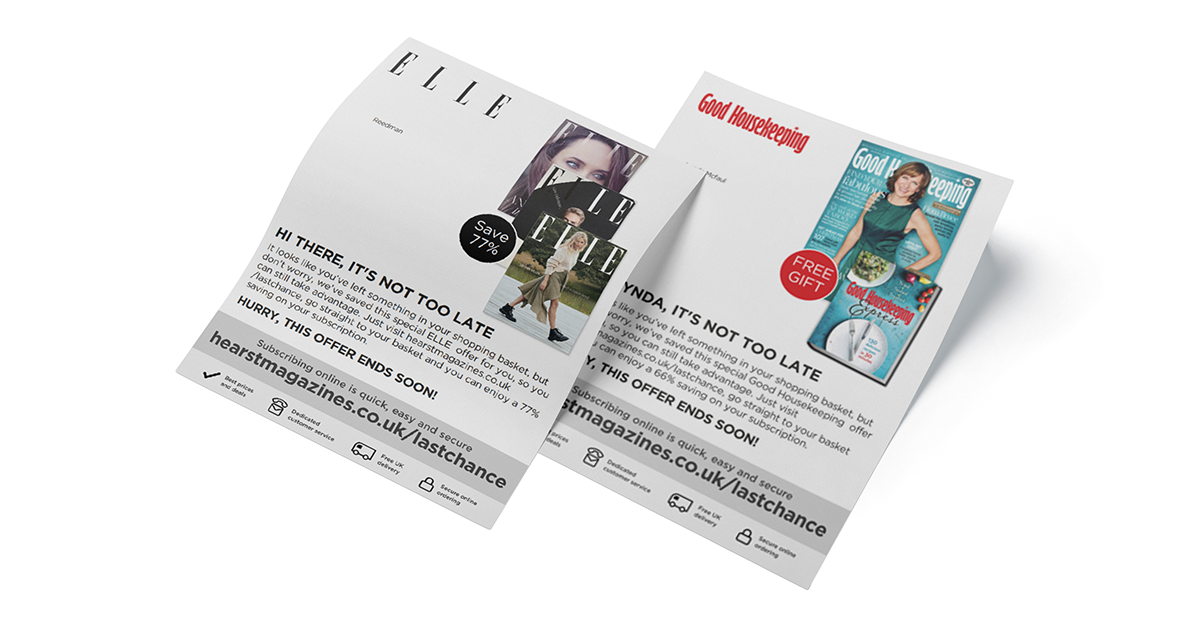 Hearst, one of the world's leading content and experience businesses, partnered with Paperplanes to experiment with programmatic direct mail and evaluate if it can increase customer engagement online.
Paperplanes devised a strategy targeting customers who browsed subscriptions on the Hearst website but did not go through to make a purchase. Users who abandoned sessions without purchasing a subscription were then sent personalised follow-ups, with creative tailored to their interests, via programmatic direct mail. 
The resulting impact? A massive 500% increase in total traffic to the site and 69% uplift to Hearst's key feature titles. 
More than this, the campaign boasted a lucrative CPA of £9, with recipients of the mail campaign showing a conversion rate double that of the standard web browser.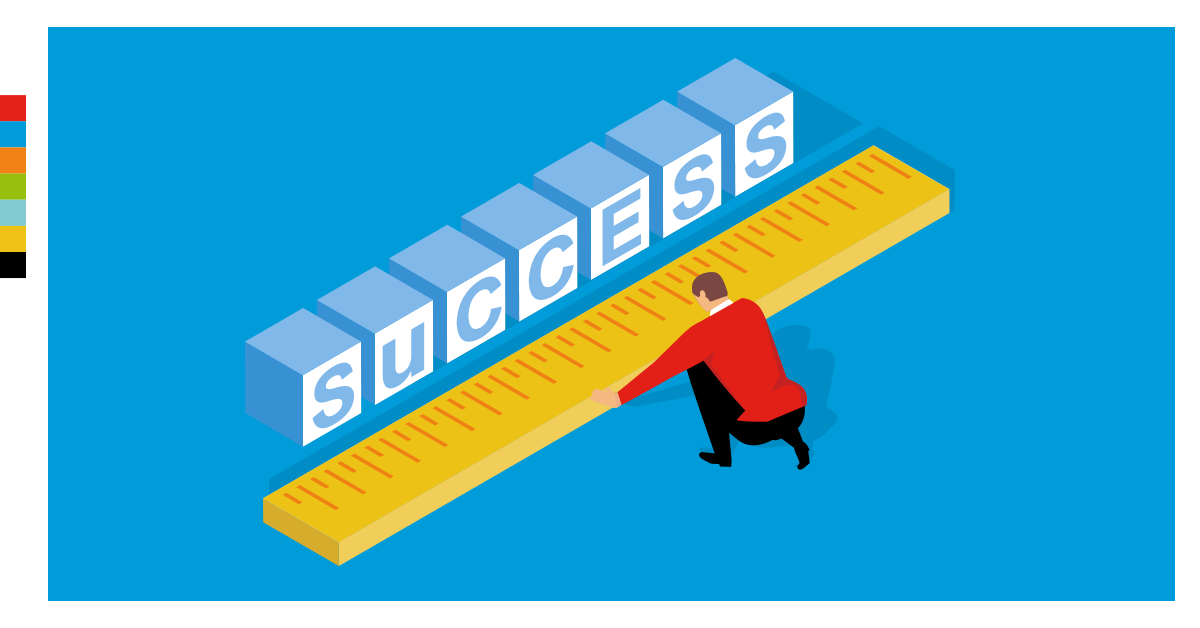 Effectiveness is everything
Not even Willie Pastrano could've seen the punch of COVID coming and all businesses are still reeling from the impact. But any brand looking to stay on its feet needs to focus on marketing effectiveness. 
Whilst COVID has induced economic uncertainty and tightened budgets, it has also changed what effectiveness looks like for many different channels. This is certainly the case for mail which has a fresh momentum as people spend more time at home – it's no surprise to see increased plans to take advantage of the channel in 2021. 
Direct mail drives the metrics that matter for brands. As the importance of loyalty and customer retention increase, so does the value of channels which combine high levels of trust with high levels of engagement. 
To learn more about how you can achieve your marketing goals through mail, read our full Mail Matters More Than Ever guide here.
Further reading
1. WARC - UK adspend forecast for slower 2021 recovery
2. Marketing - Why are brands turning to direct response amid Covid-19
3. BBC - UK's internet use surges to new highs during lockdown
4. Worldwide Texting Statistics
5. World Economic Forum - Microsoft will let employees work from home permanently
6. IPA - The Long and the Short of It: Balancing Short and Long-Term Marketing Strategies
7. Royal Mail Marketreach, Trinity McQueen, Coronavirus 2020
9. McKinsey - Consumer sentiment and behavior continue to reflect the uncertainty of the COVID-19 crisis
10. Gartner - Gartner CMO Spend Survey 2020-2021
11. Royal Mail Marketreach, The Value of Mail In Uncertain Times, Kantar TNS, 2017