Ultimate guide to improving the sustainability of mail
The marketing and media industry has a huge role to play in helping to reduce carbon emissions and guiding businesses on sustainable choices. Understandably, it can be hard for marketers to keep sustainability front of mind when faced with commercial priorities. But the fact is, it's a necessary priority to preserve our planet. This blog provides an ultimate guide to improving the sustainability of mail marketing with practical tools to use right away.
Sustainability
The marketing and media industry has a huge role to play in helping to reduce carbon emissions and guiding businesses on sustainable choices. 
Understandably, it can be hard for marketers to keep sustainability front of mind when they face C-suite requests to reduce their budgets or find savings in the face of rising business costs overall. The demand for advertising investment to show an immediate return means CSR commitments – including sustainability – risk being rolled back.
But consumers continue to expect brands to look beyond the short-term and 'to do the right thing' in contributing to making sure our planet stays habitable. And it is the right thing to do! Making positive environmental choices regarding media can also maintain – or even improve – campaign efficiencies and effectiveness.
All media, including digital communications, create carbon emissions but marketers need the guidance and tools to reduce the environmental impact.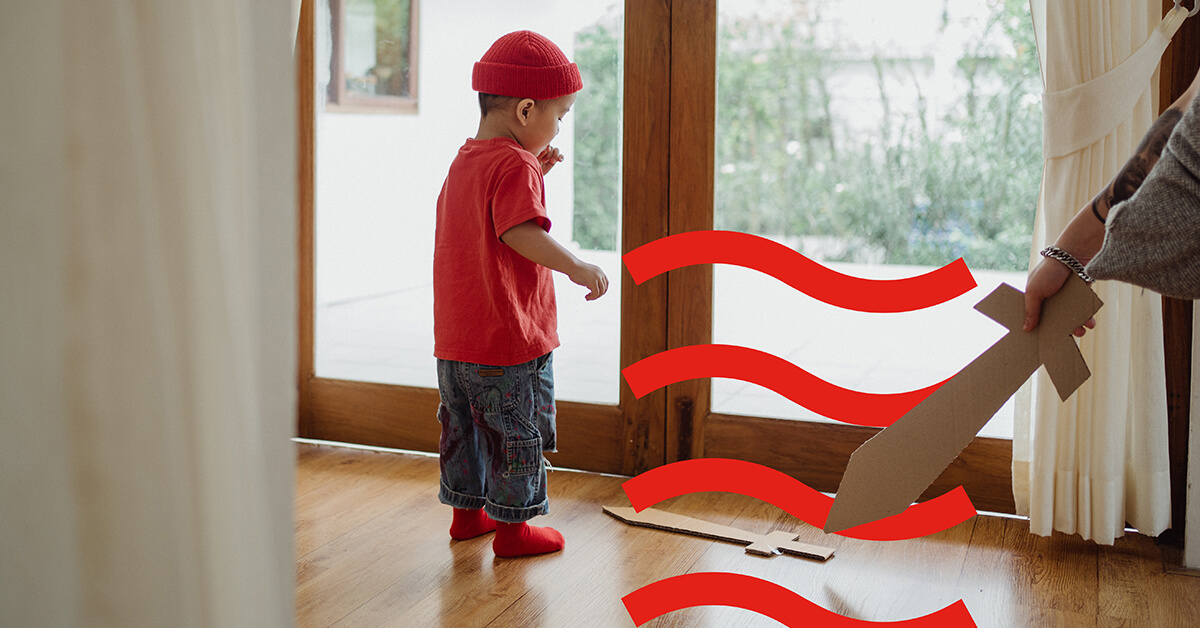 Tools and tips to reduce carbon impact of marketing
The first step any media owner can take is to ensure that all stakeholders have credible data on the carbon impact of processes and operations. This empowers all involved to make informed decisions. And these insights need to be accompanied by a range of options to help marketers meet their objectives more sustainably, while also considering their other business priorities.
The industry has made great strides in developing useful tools and providing information on the impact of creative and media production processes, led by the UK Advertising Association's Ad Net Zero initiative. An example of this is ADGreen's Carbon Calculator.
But the industry hasn't yet found a solution that compares media carbon footprints on a like for like basis. The first step towards a solution is for each medium to get its own house in order.
For Marketreach this meant investing in carrying out a carbon Life Cycle Assessment (LCA) of Mail. We used the insights from the analysis to develop an intuitive tool that can help marketers and brands make more informed decisions about the sustainability of their mailings based on data.  More about the tool later in the blog. Firstly, if you're new to the concept of an LCA here's what it is.
What is a Life Cycle Assessment?
A LCA scientifically measures the environmental impact of a product through every stage in its life. In our case this means paper and its transformation into mail (including direct mail).
We independently commissioned a study from LCA experts WSP, to examine the overall carbon impact of mail. This included from raw materials through to end-of-life and possible ways to make the manufacturing, creative and distribution processes more sustainable.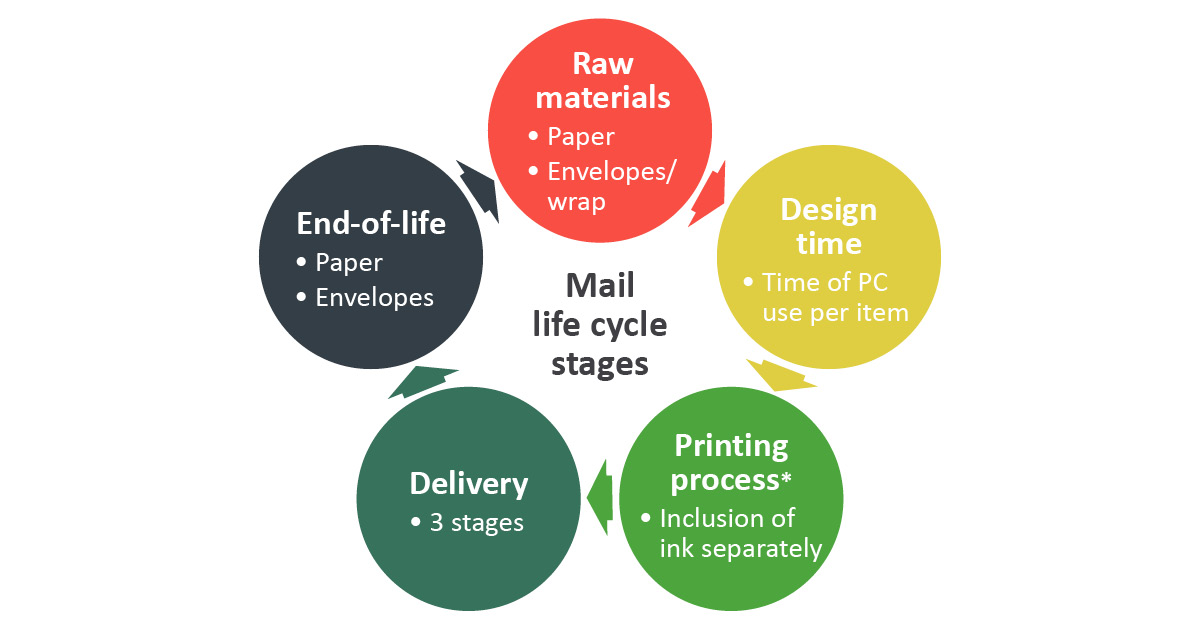 Here comes the science bit! The study was based on the following assumptions:
A print run of 500 or 1,000 pieces
10 standard formats: Postcard, C5 letter, A4 letter, Leaflet, C5 catalogue, A4 or C5 large catalogue, Magazine, Occasion Card and Direction Lengthwise (DL) outer and letter
Delivery results modelled on a Royal Mail Delivery carbon footprint with an assessment of the difference between first and second class
To model ink an assumption of 12 grams per m2 of paper at 25% for smaller items (letters, leaflets, cards etc.) and 50% for larger items (catalogue, magazines). An average emissions factor of 5.36 gCO2e/g (carbon emissions) of all the types of ink provided by Royal Mail was used as the specific emissions factor
End of life modelling assumes 29.4% of paper goes to landfill and 70.6% of volume is recycled.
Key learnings from the carbon impact of mail?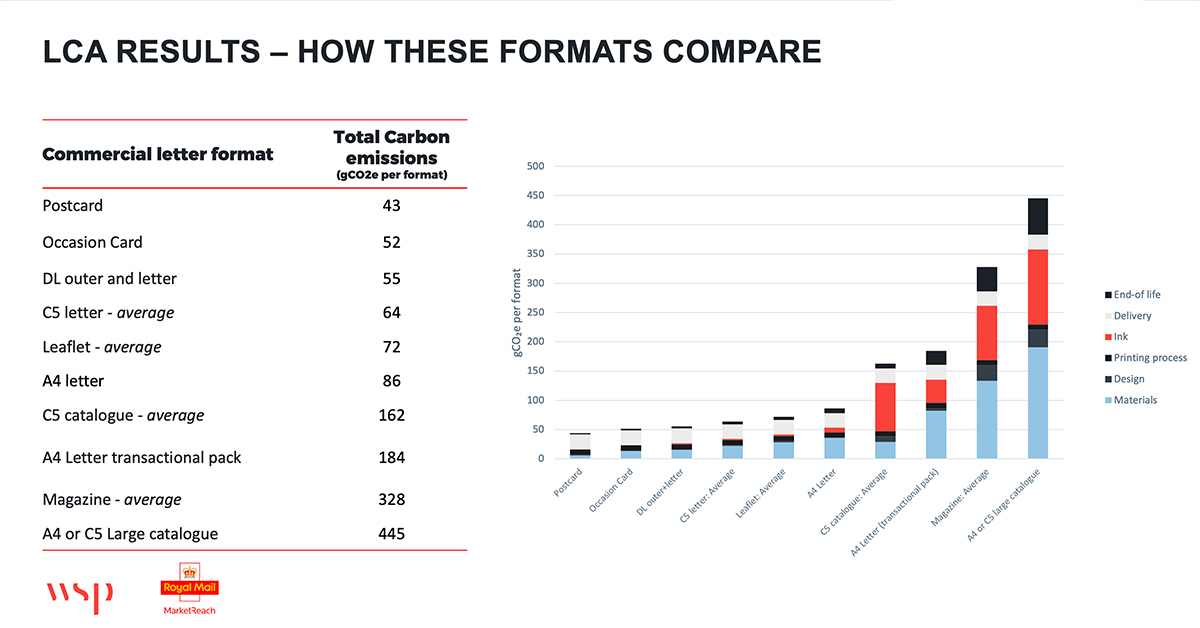 Our LCA analysis provided several findings to help the mail industry and brands improve sustainability efforts.
There is a notable difference between the carbon impact of smaller and larger formats. For smaller items, printing and transport delivery has a significant impact on the total carbon emissions; whereas for larger items, the quantity of paper used in the format has a higher impact than the printing or delivery
The size of the leaflet has more of an impact on the total emissions of a format than the number of pages. For example, for 4 printed pages (sides) there is an increase in emissions of 42% between A5 and A4 sizes
Pagination does have a clear effect – the more pages the more emissions increase as more materials, design time and ink are needed. 
The conclusion? Materials, size and pagination matter when considering the sustainability of mail.
All these findings and more have been put together in our first ever mail LCA tool. It allows marketers and agencies to compare formats across the life cycle of mail and can be found at https://www.marketreach.co.uk/mail-sustainability 
How to use the Marketreach mail LCA tool
The interactive tool features 10 popular mail formats from a postcard to a catalogue.  Clicking on any of them will reveal the format's total carbon emissions alongside a breakdown into the separate components from materials to end-of-life.
For instance, clicking on 'postcard' shows total carbon emissions of 43.61 gCO2e, of which the biggest contributor is the delivery and the smallest the design.
To help visualise what this means the calculator provides an everyday comparison – in this case the impact is less than the carbon impact of one orange. Users can also see how much using 2nd class postage can reduce impact.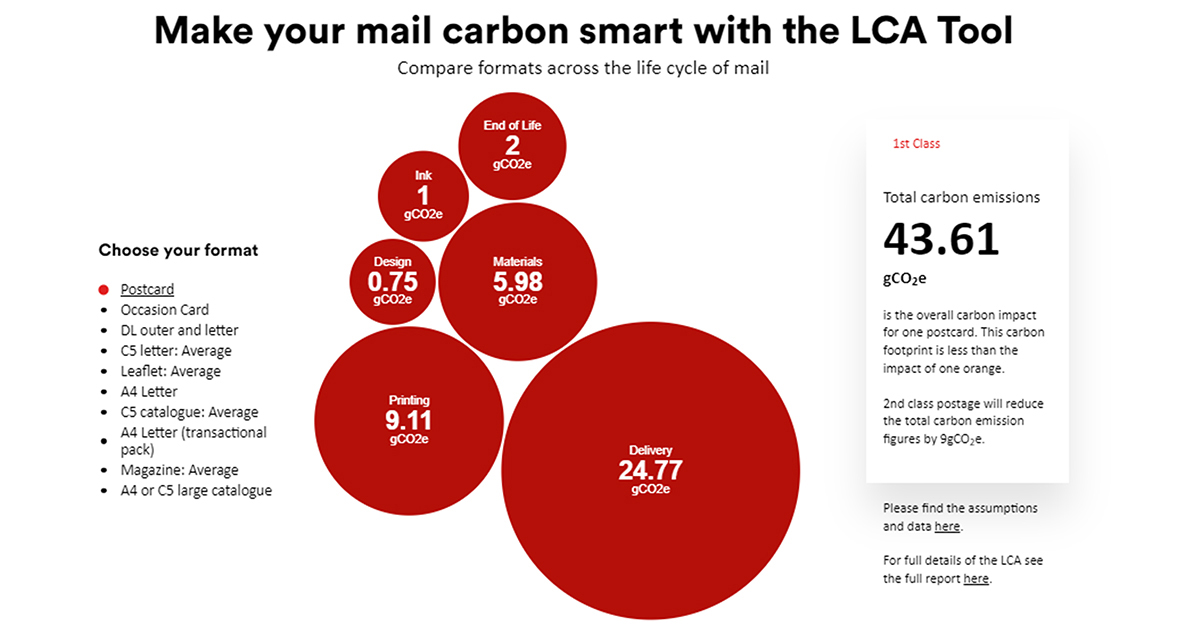 Of course, mail is likely to be part of an omnichannel campaign and measuring the total impact will need reference to the emissions of all the other channels involved. 
Discover the circular advantage of mail
Mail can be a sustainable choice  when the right decisions  are made. To understand how mail works within a 'circular economy' we use the framework of Regeneration, Reinvention, Reduction, Reuse and Recycle. Let's look at ways these four concepts can be applied to the life cycle of mail:
Regeneration - Paper comes from a natural, regenerative crop – trees. If a brand can work with a supplier that only uses paper from sustainably certified forests this is a great first step in developing a sustainable campaign.i 
Reinvention – This spans a host of useful, recent innovations that has transformed paper mills and printing processes to be more sustainable and efficient. Low-impact modern paper mills run on 100% renewable energy, use total chlorine-free processes and recycle most of the water involved.ii Not to mention bio-degradable ink alternatives made from vegetable oils such as soy, sunseed or rapeseed oil.
Reduction – Royal Mail is focused on reducing the distribution footprint for mail and has a net zero target of 2040. Actions include decarbonising its distribution fleet, switching to renewable energy and electrifying more vehicles and operations. And a big part of its reduction strategy is its last mile delivery by posties delivering by foot.iii 
Reuse & Recycle – Within the supply chain things like ink cartridges, mail trays, and elastic bands are reused. Paper is also readily recycled and can be reused many times to extend the life of mail. In the UK more than 70% of the fibres used to make paper are recycled and used up to 7 times before the fibres degrade too much for papermaking.iv
Practical ways brands can create more sustainable mail campaigns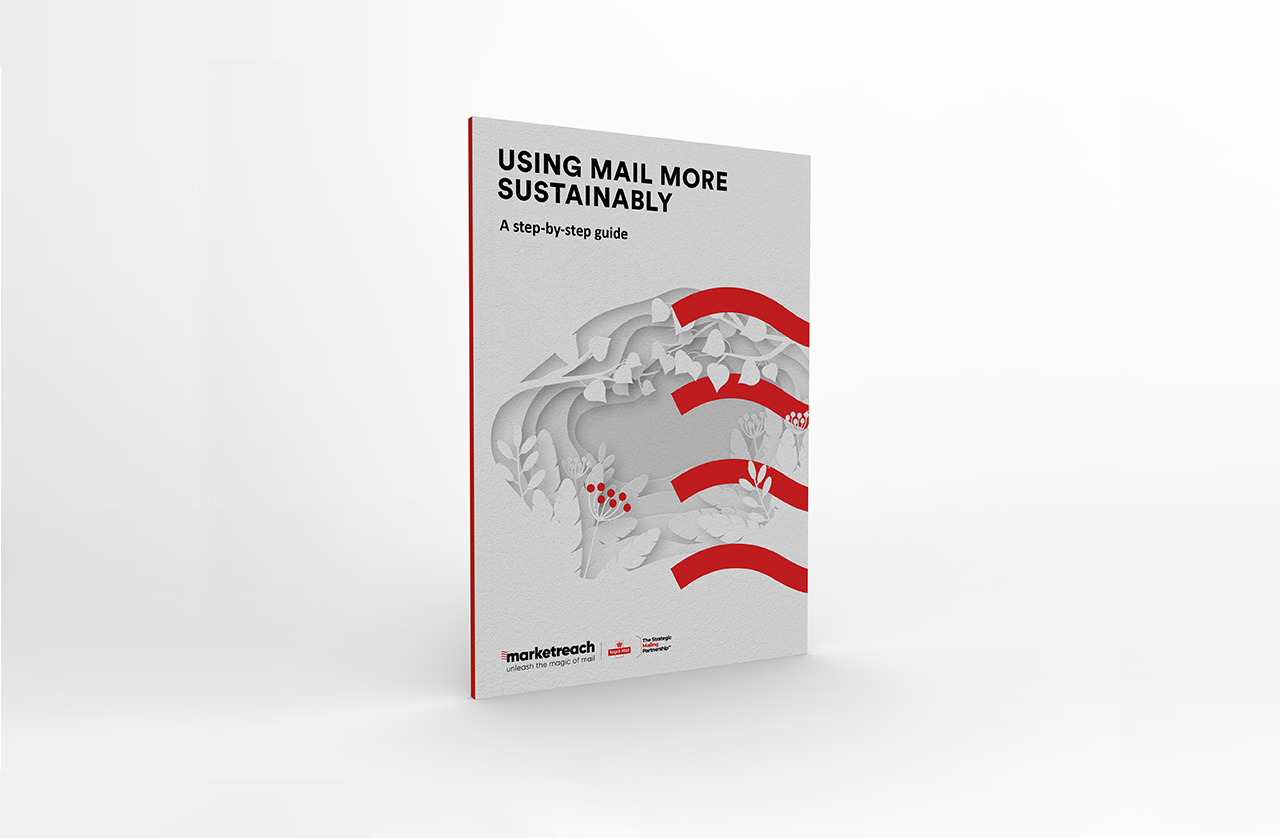 Our Using Mail More Sustainably guide provides suggestions for helping develop more sustainable campaigns, for example:
Ask print suppliers about the paper choices available, and whether that paper has taken advantage of low-carbon technologies in its production
Explore what eco-friendly inks might be available and if you can reduce the amount of ink coverage used per piece.
Design mail in such a way as to minimise its impact throughout the printing and production process. Can you reduce weight and size while maintaining the commercial impact of your campaign?
Remove wastage – clean up and dedupe mailing lists so less mail is being sent out in the first place
Work towards tighter targeting of potential customers to further reduce print run and delivery emissions
Educate customers about recycling. For instance, there's a lot of customer confusion on whether the window in window envelopes can be recycled – make sure your mail states clearly what is recyclable and what isn't.
A shining example of thinking sustainably – People's Postcode Lottery sustainable mailing
There are plenty of examples of successful campaigns that have put a sustainable lens on planning and activation.
Charitable organisation The People's Postcode Lottery (PPL) is a great example. It wanted to trial a UK mail campaign but realised the large carbon footprint of the gold foil polywrapped mailer it had used in the Netherlands did not fit with its CSR values - nor the values of the organisations it supported. It wanted a sustainable option but also to retain the attention-grabbing qualities of the gold shine.
With the help of direct marketing partner Dragonfly, it sourced low impact paper, water-based ink and more sustainable elements for its pack.
The outcome was a recyclable alternative to the gold polywrap original. It looked great and both PPL and Dragonfly were 100% confident in its sustainable credentials. The initiative produced winning results with a 57.2% increase in response rate when tested against the organisation's previous best performing control pack.
You can learn more about the innovative options PPL chose and the guidance it received in this case study.
Conclusion
The marketing sector is constantly learning how to reduce its environmental impact by using measurement tools and innovations in formats and delivery methods.
Mail still has more to learn about decarbonisation and waste reduction to improve its circular advantage, but we are on the journey. It can be a sustainable choice if the rights decisions are made about the full production and distribution process using credible data and advice.
Positive change will need a collective effort from the whole supply-chain, and the support of brands and partners. But cross-industry collaboration is well underway and each day we understand more about the challenges and potential solutions.
Explore the new mail LCA tool at https://www.marketreach.co.uk/mail-sustainability. Also find plenty of helpful advice and suggestions about how to use mail more sustainably with our Using Mail More Sustainably Guide. Download it here https://www.marketreach.co.uk/resource/using-mail-more-sustainably.
---
i. https://fsc.org/en/why-forests-matter
ii. https://www.twosides.info/papers-water-consumption
iii. https://www.royalmail.com/sustainability/environment/net-zero
iv. https://thecpi.org.uk/library/PDF/Public/Publications/Other/Myths%20and%20the%20Facts.pdf