IKEA FAMILY Club
An embroidered 'email' sent members online to opt in for real email.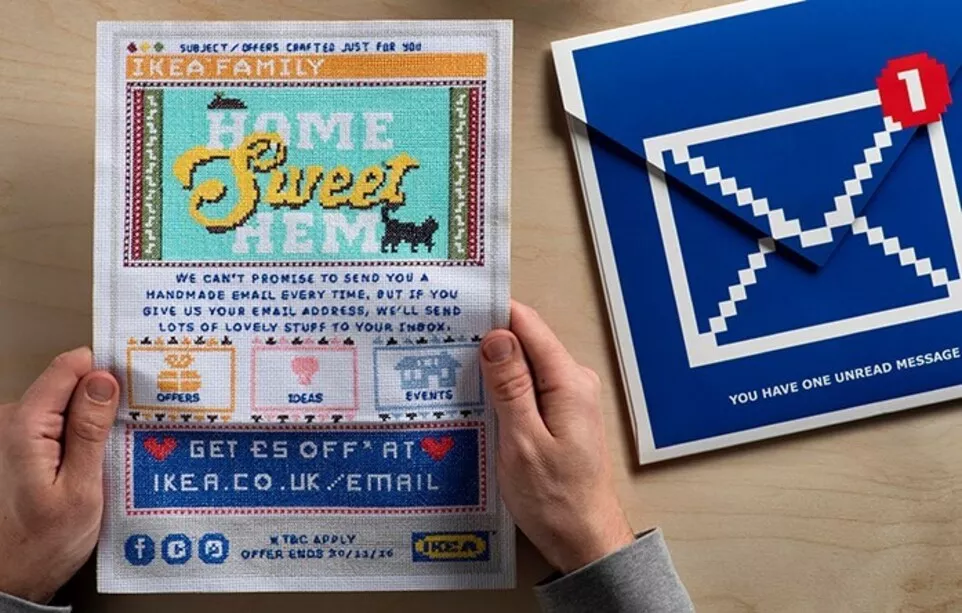 Background
When exploring how to build a stronger relationship with their FAMILY Club loyalty members, IKEA spotted a valuable opportunity. The highest spending segments were more valuable, by at least £35 a year, when they are opted in to receive both mail and email.
IKEA had 5.5 million members in its FAMILY Club, but 1.3 million of these were only contactable by post. The retailer needed to find a compelling reason for them to sign up for email.
Solution
IKEA's strategy was to gain access to members' inboxes via their postboxes. And give members further incentive to opt-in to email communications by offering a £5 voucher. The idea needed to demonstrate to IKEA members that the IKEA FAMILY club was like no other, so it was worth signing up for their regular emails to find out more.
IKEA mailed FAMILY Members an intriguing blue envelope with the email icon on the outer. Inside was a unique, beautifully crafted fabric 'email' created entirely out of cross-stitched embroidery. The handcrafted letter mirrored the finer details of a digital email, down to the social media logos in the footer and the browser buttons. The effect of the process – sewing each 'dot' of the image in a cross, even gave it a pixelated effect. The outer envelope referenced the email notification we are all familiar with on our mobile devices, with the headline 'You have 1 unread message'. Once opened the 'email' was revealed, with a message to encourage them to opt in to IKEA's regular emails.
Landing on a doormat with a thud, if this tactile and unique communication wasn't enough to persuade FAMILY Members to go online and opt in with their email address, the £5 incentive would do so. The customer journey continued online, with the handcrafted feel evident from the sign-up process to the first welcome email.
Results
IKEA's handcrafted email produced authentic results. Opt-in rates for members mailed exceeded expectations by over 3%, with over 13% of recipients opting into email as a marketing channel. A clearly signposted and incentivised call-to-action drove higher than anticipated volumes of unique campaign url visits. The higher than average redemption rates for the £5 incentive demonstrated that this highly brand driven communication had generated online visits and sales.
Did you know a whopping 99% of Customer Mail is engaged with, 71% say they trust it and 43% leads to a commercial action such as going online or making a purchase? New ground-breaking research written with Accenture gives an in-depth review of CX and multi-channel communications, including Customer Mail. Download the full report here.